Solutions
Developing innovative products for improving patient treatment
Hydrogel for local antibiotic delivery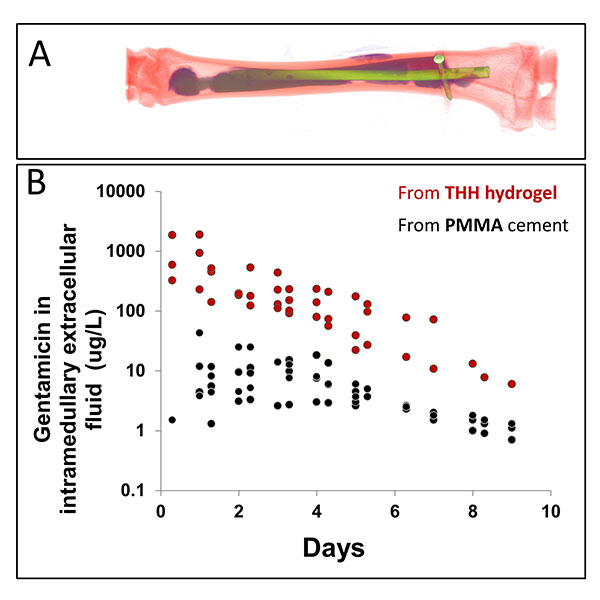 Clinical problem
Infection is a devastating complication in trauma and orthopedic surgery. Standard antibiotic-eluting PMMA-cement is insufficient and needs a second surgery for removal.
Proposed solution
Delivering local antibiotics through a bioresorbable hydrogel to maximize the local concentration of the therapeutic agent and minimize the systemic levels and side effects. The local application in combination with systemic antibiotics can be used for prevention and eradication of infections associated with metal implants. Figure A shows the distribution of thermoresponsive hyaluronan hydrogel (THH) within intramedullary cavity in a sheep cadaver trial. The image in false colors illustrates the gel (darker blue) filling-up the intramedullary space non-occupied by bone marrow. Figure B shows a comparison between the local concentration of gentamicin sulfate achieved from standard antibiotic-eluting poly methyl methacrylate cement (PMMA, dark dots) and antibiotic-eluting THH (red dots) in a sheep model. THH achieves a local antibiotic concentration around 100 higher than standard PMMA cement. Thus, with THH the antibiotics concentration is high at the wound site where it is most needed and low systemically, where toxicity might occur.
Biphasic Plate: New generation of locked plating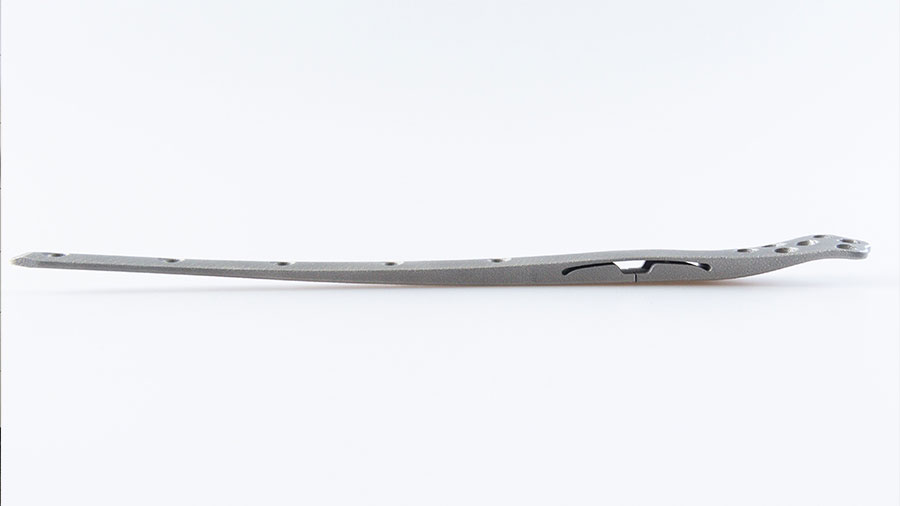 Clinical problem
Healing complications occur in up to 10 percent of cases, of which a significant portion may be attributed to unfavorable mechanical conditions at the fracture. Moreover, state-of-the-art plates are prone to failure from excessive loading or fatigue.
Proposed solution
A new biphasic plating concept has been developed to create controlled mechanical conditions for timely and robust bone healing and simultaneously improve implant strength. Thereby, the concept aims to enable confident early weight-bearing believed to be crucial for superior fracture repair.
Fracture Monitor: Toward the world's first continuous healing sensor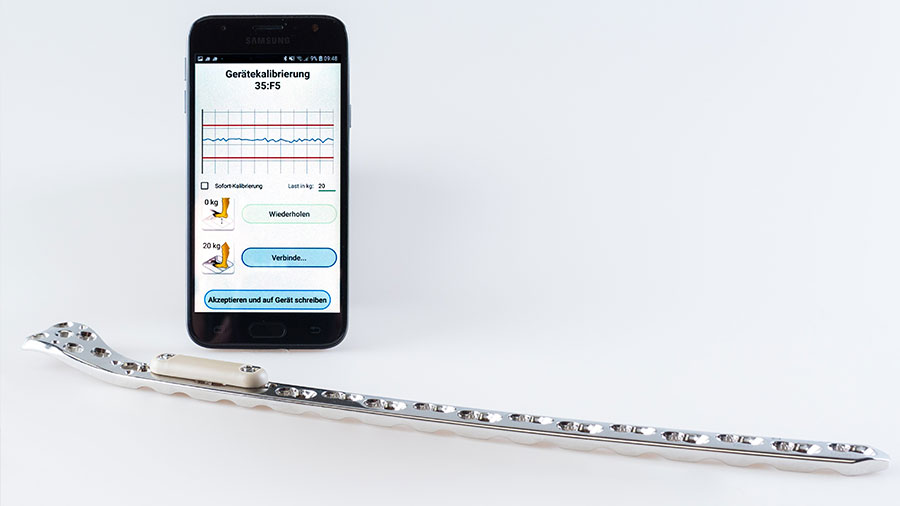 Clinical problem
Radiography, the current gold standard to evaluate fracture healing fails to deliver objective and timely feedback on the integrity of the repair process and comes at the price of harmful radiation exposure. As a result, supervision of the healing process is subjective and fragmented. Important interventions in case of healing complications are all too often significantly delayed.
Proposed solution
Using an implantable sensor system to quantitatively assess fracture activity, bone healing progression can be continuously monitored via remote access. The implant is attached to conventional osteosynthesis plates and operates autonomously and maintenance-free throughout the course of healing. Through communication with the patient's smartphone, the seamless data stream offers new possibilities for improved and patient specific rehabilitation and supports the early detection of healing disturbances.
X-in-One: Placing implants safe and sound
Clinical problem
The task of placing implants plays a key role in trauma and orthopedics surgery. Current solutions for computer aided surgery lack of wider acceptance due to considerable disadvantages regarding complexity, costs, and effectiveness.
Proposed solution
A simplified computer aided surgery system X-in-One has been developed* utilizing a conventional C-arm as imaging and navigation means rendering additional tracking and imaging equipment obsolete. The system provides simple integration into standard clinical routine and strong potential for improving clinical practice for a variety of surgical interventions in trauma and orthopedics.
*Graphical User Interface in collaboration with Mevis Medical AG
GoForce: Guided growth regulation revisited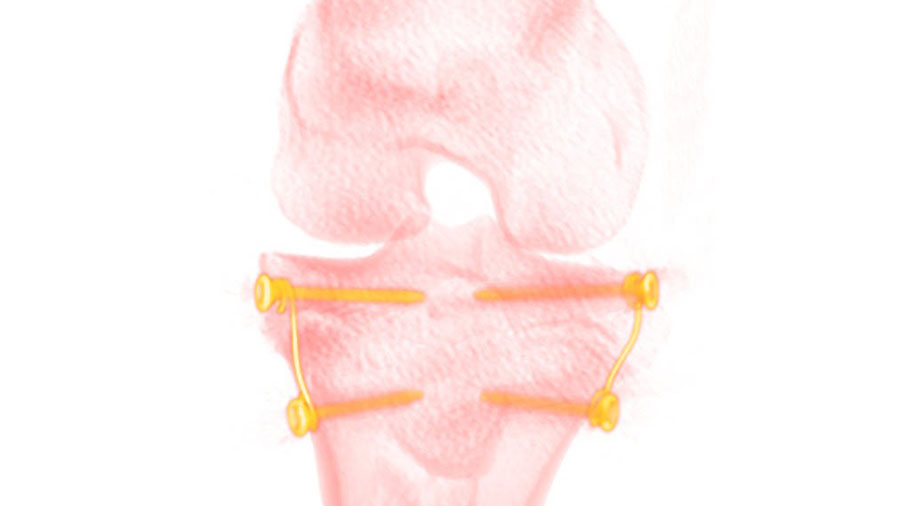 Clinical problem
Limb deformities in children and adolescents are commonly corrected by the guiding growth technique whereby the deformity is equalized by inhibiting the growth with an implant. The treatment effect of currently utilized implant solutions is a function of growth. Hence, they require proper treatment planning and appear inefficient, particularly in correction of leg length discrepancies.
Proposed solution
A new constant force implant concept has been developed to realize controllable and efficient growth regulation. Treatment and outcomes are, thereby, rendered predictable. At the same time implant failures can be avoided.
AutoGauge: A smart drilling device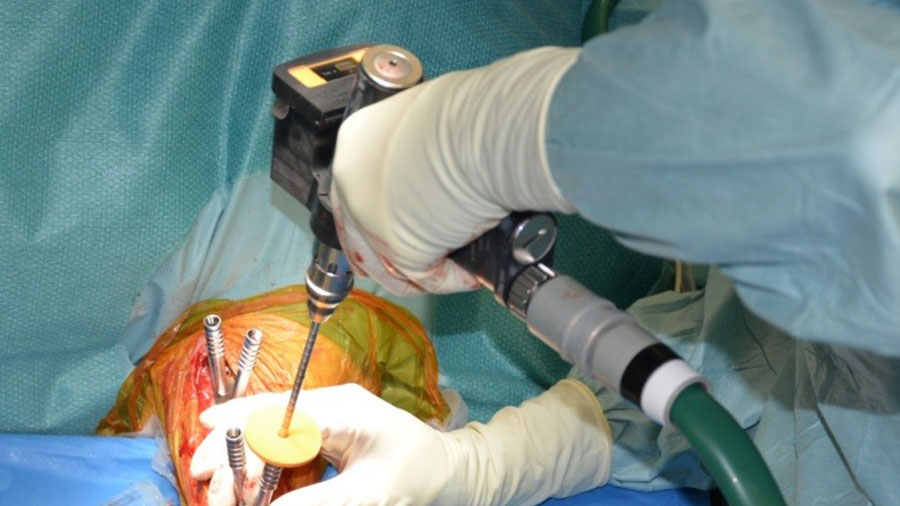 Clinical problem
Well executed plate or nail osteosynthesis requires the placement of the correct screw lengths to ensure fixation stability and avoid soft tissue irritation. The use of the current state of the art manual depth gauge requires an additional step after pilot hole drilling and it has been frequently reported to be problematic in use leading to replacement of screws afflicted with increases surgery cost, time, and radiation dose.
Proposed solution
AutoGauge is an add-on device that can be attached to conventional surgical drills. It uses a high-precision laser sensor to measure the actual drill depth directly during drilling. By analyzing the signal in real-time, it detects the required screw length on the fly and displays the results to the surgeon. As an intraoperative digital aid, the device intends to ensure correct screw length selection, save operating room time and costs.