Getting to know Max Heiland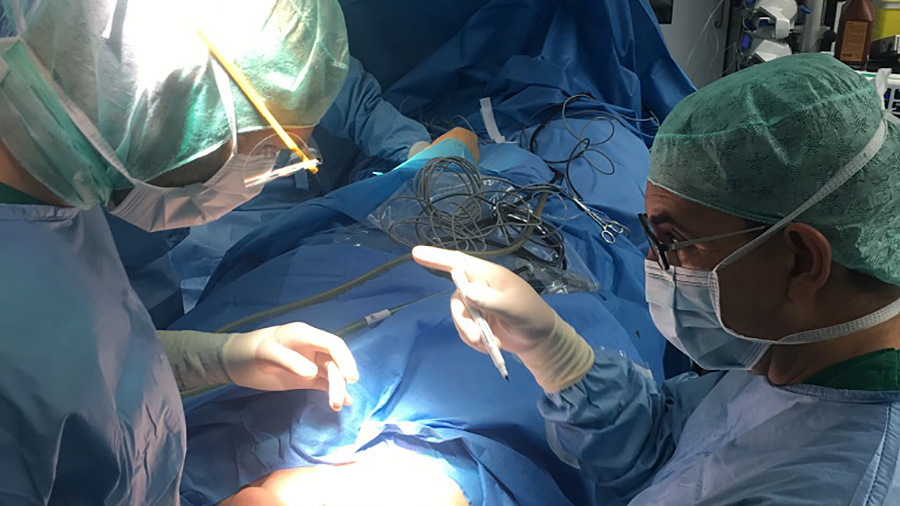 As AO CMF Europe and Southern Africa (AO CMFESA) Board Chair-Elect Max Heiland, MD, DDS, prepares to take the reins of the regional board in July 2021, he describes his priorities for the term that runs until July 2024. These priorities include increasing interaction between the European and Southern Africa teams; finding a balance between on-site and online education; ensuring a successful launch of the FACE AHEAD craniomaxillofacial global summit in 2022; and relaunching the Lighthouse concept for AO CMF's web lab courses.
Heiland has been head of the Department of Oral and Maxillofacial Surgery at Charité Universitätsmedzin in Berlin, Germany, since 2017. Specializing in oral and maxillofacial surgery and dental implantology and with a subspecialization in plastic surgery, he is a much-respected surgeon and professor. He currently is an elected member of the board of Deutsche Gesellschaft für Mund-, Kiefer- und Gesichtschirurgie (DGMKG), the German society for craniomaxillofacial surgery. Since 2015, he has represented Germany as a member of the AO CMFESA Board.
Passionate about surgery—and patients
From the first time he entered an operating theater, Heiland was hooked. That passion for surgery—and patients—persists to this day.
"When I was in my last years at school, the father of my girlfriend at the time was the head of the ear, nose, and throat (ENT) department at a nearby hospital. In lieu of military service, I did civil service at that hospital, escorting patients to the operating room," he recalled. "When I had nothing to do, he allowed me to observe and assist during surgery. This really gave me a look into general surgery, trauma, and head and neck—and I was most fascinated by head and neck."
'The principles are always the same'
Today an accomplished surgeon, Heiland said he still has the same passion for surgery—and patients.
"The cases have become more challenging and patients' expectations are higher today, and with experience I attract more complicated cases. In the end, it's the same: We reconstruct everything as well as we can. It could be reconstruction related to cancer or related to trauma or a congenital condition; the principles of treatment are always the same," he said.
Always mindful of his good fortune to be practicing in a country where patients' health care costs are covered and technology is easily accessible, Heiland said there is still much to be gained by knowledge exchanges between surgeons representing various countries, cultures, and resources: from those from more prosperous nations to those achieving good patient outcomes with older, but excellent, techniques.
"This exchange is a real strength of the AO network and one of the things I most appreciate," he said. "I like that Southern Africa is part of our board, because there is a mutual exchange of respect and knowledge. European surgeons and South African surgeons can have different views on the same situations. It's important for us as surgeons to keep our minds open—and the AO forces us to do just that."
Continuing a gold standard
Going into his term as chair of the AO CMFESA Board, Heiland is eager to find a balance between on-site and online AO CMF educational events in order to continue contributing to the AO's reputation as the premier provider of gold-standard postgraduate medical training.
"The first-ever fully online AO Davos Courses in December 2020 were a huge success, and it was a true accomplishment to manage this completely virtually," Heiland said. "The AO is among the pioneers in online training, but we know that there are competitors. We must decide how to proceed in this new field. For example, ultimately, surgical training with human anatomical specimens must be done face-to-face, on-site."
He is also excited about the 2022 debut of FACE AHEAD—AO CMF's first-ever global summit, featuring a roster of stars from across the world of CMF and the subspecialties—as well as the relaunch of the Lighthouse concept for wet lab courses.
"FACE AHEAD is a completely new congress, and we will do everything possible to ensure its success," he said. "The Lighthouse concept, launched in 2019 in Madrid, Spain, was put on hold due to the spread of the COVID-19 pandemic, and we are eager to relaunch these popular courses this September in Padua, Italy."
Delivering real value with the FEP
Heiland is also eager to bring new members to the AO CMF community, and he believes the Faculty Education Program (FEP) could be one key to making that happen.
"When I was young, no one really knew how to become AO faculty, but our FEP—at no cost to members—makes the path clearer and not only trains members to teach AO CMF courses, but provides them with highly valuable skills for teaching at their universities," said Heiland. "That's a huge benefit."
'A door is always open'
Ultimately, Heiland wants every member's AO CMF experience to be as fruitful and satisfying as his own.
"When I was a young resident, I was able to go to the AO Davos Courses, and Dennis Rohner was my table instructor. I was in such close contact with him during the event, and that was truly something: to learn from the best," he said. "This experience truly inspired me. Later, as I become more involved in AO CMF, I developed this global network of friends in the community, a network I would not have without the AO, because at conventional congresses, you meet the same people you already know. In the AO, a friendship can grow, and a door is always open if you need anything; it's as easy as sending an e-mail."
Also on Heiland's wish list are cross-specialty events bringing together members from AO Spine, AO Trauma, AO VET, and AO Recon.
"I would really like to see us getting to know one another—and sharing knowledge—across the specialties," he said.