Using technology to give young patients a second chance at life
AO CMF faculty member Majeed Rana unites surgical expertise, compassion and technology in service of patients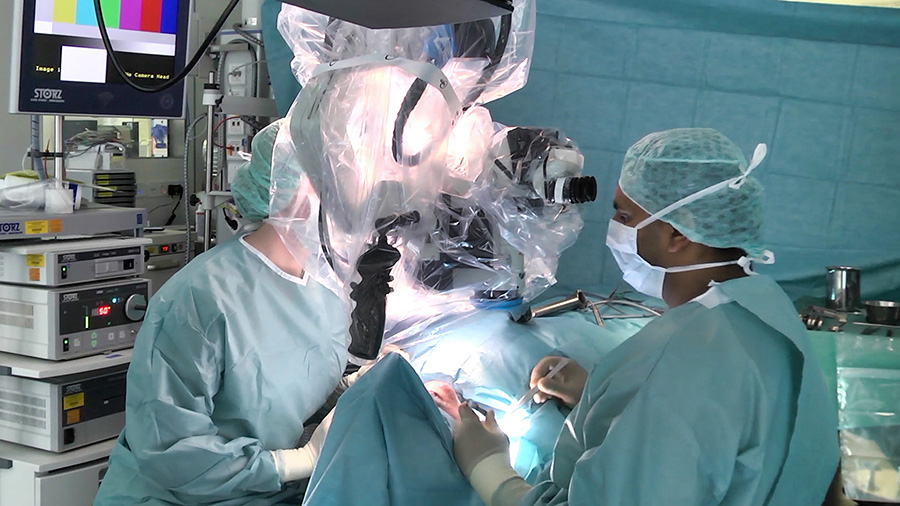 Surgical expertise, compassion and technology equal improved outcomes for the craniomaxillofacial (CMF) patients of AO CMF faculty member Prof Majeed Rana, MD, DMD.
Rana, vice director of the Heinrich Heine University Düsseldorf Department of Oral and Maxillofacial and Plastic Facial Surgery, treats extremely complex cases—and employs state-of-the-art technology to take surgical planning to a new level of excellence. Computer-assisted surgery (CAS) has been invaluable tool throughout Rana's 14 years of medical practice.
"Whatever the situation, I always have a plan, thanks to computer-assisted surgical planning," he explained. "I can look at and manipulate images of the patient, reposition anatomical segments, and simulate treatment of pathologies first on the computer monitor before we get to the operating room."
Perfectly aligned with the AO's mission of promoting excellence in patient care and outcomes in trauma and musculoskeletal disorders, Rana's use of computer-assisted surgical planning puts patients at the center of the planning process.
---
"For me, AO CMF is the best and biggest surgeon network in the world—a perfect platform for sharing experiences, making friends, and increasing and sharing my knowledge."
---
"Not only can we measure quality, we involve patients in the planning process. They can bring their wishes to the process," he said, demonstrating the empathy that is so key to his work. "That's very important because ultimately, it's the patient's body and the patient is the one taking the risk."
Rana, who grew up in the north of the Frankfurt am Main urban area, faced two choices when deciding what career to pursue—medicine or military pilot—and to the benefit of his future patients, medicine won out.
"I came to craniomaxillofacial surgery as a specialty very late in my general medicine studies," he said. "I found that it was the only specialty where I could reach such a wide variety of patients: children as well as cancer, trauma, and aesthetic surgery patients. CMF surgery is for me because there are not so many limits: What you can do is according to your wishes and skills."
Rana recounted two particularly complex cases that highlight the convergence of expertise and technology. A 2015 case involving 10-month-old girl from Afghanistan with Crouzon syndrome, a genetic disorder in which certain skull bones are prematurely fused, preventing the skull from growing normally. Because time was of the essence, Rana and his team had little time for pre-planning: the toddler was sedated, taken for a computed tomography (CT) scan, and surgery began immediately. At the same time, Rana's team used CAS to segment an image of the child's skull and, based on that image, 3-D print with selective laser sintering (SLM) a titanium mesh implant to protect the patient's brain during postoperative healing. Today, that patient is recovering well and her speech has improved. An additional surgery may be undertaken when she is six years old.
Another two-year-old patient illustrates the value CAS can deliver when there is more time for pre-surgical planning. The patient, a refugee from Moracco, also had craniosynostosis, which can lead to severe developmental disorders, including problems with eyesight and neurological deficits. Compounding these issues were the fact that the child's mother was grieving the loss of her own sister to cancer the same year.
"Understandably, the patient's mother was afraid of the risks associated with surgery as well as the risk of blindness for her child," Rana said "The psychosocial circumstances of the child and mother were exceptional. The patient's mother was already desperate and disenchanted by the medical services in hospitals she had consulted. She was a single mother and, on top of all of this, she was grieving the death of her younger sister who had died the same year after an energy-sapping fight against leukemia."
Rana and his team stepped up with compassion, expertise and technology to give the family hope. Rana's team spent six months producing a synthetic skull, planned the surgery with guides, and printed a patient-specific, resorbable cage implant made of polymer blends of Poly(DL-lactide) (PDLLA) to protect the patient's brain. The surgery was a success and subsequent surgeries are planned: a midface distraction next year, for example.
"This patient is looking very symmetrical now and doing well in school. We took a risk by waiting to do the revision surgery but we wanted more than a functional outcome; we wanted to give her good symmetry as well," Rana explained. "More challenges lie ahead, but the results so far have been satisfying. The child's quality of life has improved. She is doing well in preschool.""
Rana said AO CMF and its global network make a significant contribution to his life as a surgeon—and AO CMF helps him advance patient care by sharing his expertise.
"For me, AO CMF is the best and biggest surgeon network in the world—a perfect platform for sharing experiences, making friends, and increasing and sharing my knowledge," he added.
Prof Majeed Rana, MD, DMD
Prof Majeed Rana, a native of Bad Homburg, Germany, is vice director of the Heinrich Heine University Düsseldorf Department of Oral and Maxillofacial and Plastic Facial Surgery. Throughout his 14-year career in craniomaxillofacial (CMF) surgery, he has specialized in computer-assisted surgery (CAS), bringing a new level of predictability, quality control and excellence to the complex cases he treats.
Rana earned his medical degree in 2006 from Johann Wolfgang Goethe University in Frankfurt, Germany, his specialty in emergency medicine in 2007, and—in 2009—
his doctor of dental medicine degree from RWTH Aachen University in Aachen, North Rhine-Westphalia, Germany, and his implantology specialty. He has an AO CMF member since 2008 and has chaired the AO CMF Course—Advances in Medical 3-D Planning and 3-D Printing.
Rana currently is involved in clinical study funded by the German government for €2.5 million and aimed at facilitating a child-friendly craniosynostoses treatment using molybdenum as the base material for open cranial bone remodelling. This completely new material concept, due to the high mechanical strength of molybdenum and its resorbability, significantly reduces risk to the patient and represents a treatment that can be seamlessly integrated into existing treatment processes and clinic workflows.