Getting to know: Leonardo Righesso
An interview with the adjunct member of the AO CMF Community Development Commission representing the Europe and Southern Africa region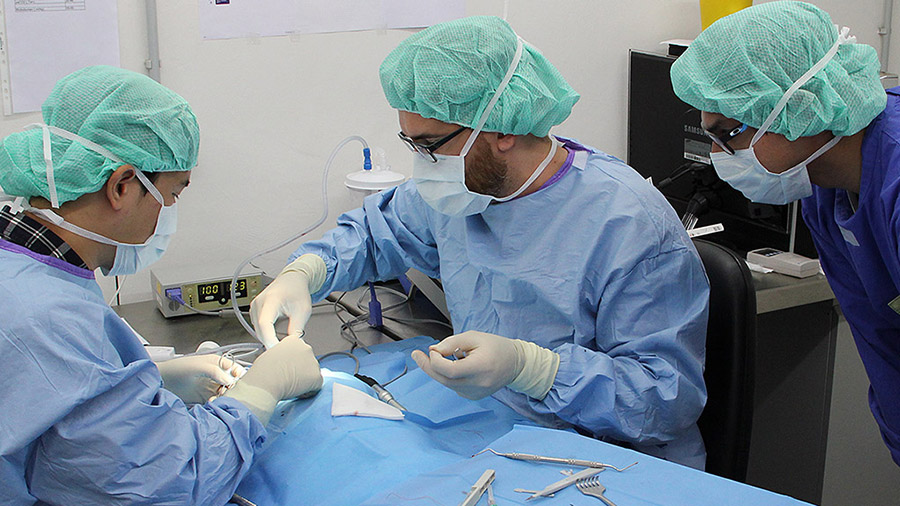 Representing the Europe and Southern Africa (ESA) region as adjunct member of the AO CMF Community Development Commission (CDC), Leonardo Righesso discusses his background, his professional trajectory, and his vision for engagement in the region.
Where are you now?
I am an oral and maxillofacial surgeon, and I am currently a PhD candidate at the Clinic for Oral and Maxillofacial Surgery and Plastic Surgery of the University Medical Center Mainz, in Germany. In fact, I just concluded a Dr. med. dent. thesis and I expect to defend my PhD thesis later this year.
What do these roles mean to you?
One of the reasons I chose to work in health care is that I really wanted to help people. It's a really good feeling when you're able to do that. When you operate on patients' faces, you can have significant impact on their quality of life. Research allows me to advance the specialty, and there is a rewarding feeling when you publish, as well.
What is your educational background?
I grew up in Brazil and studied dentistry at the Federal University of Rio Grande do Sul in Brazil . During my residency in oral and maxillofacial surgery at the Federal University of Santa Catarina, I realized that I also have a strong passion for research, so I started considering the possibility of pursuing a master's degree.
I got my master's degree from the Pontifical Catholic University of Rio Grande do Sul in 2013. It was during my master's studies that I had a three-month fellowship at AO Clinical Investigation and Documentation (AO CID) --now part of the AO Innovation Translation Center— from September to December 2012 in Zurich, Switzerland. That's when my passion for evidence-based medicine started. After my fellowship, I moved back to Brazil to finish my masters, and I already knew that I wanted to pursue a PhD. My experience in Switzerland was so positive that I aimed to do something abroad. Fortunately, I was not only accepted into the University of Mainz PhD program, but I was also awarded a scholarship to finance my studies and a research grant to fund the research project.
What inspired you to become a surgeon?
My father is a dentist and so was my grandfather. Additionally, two of my father's brothers are surgeons—one is a plastic surgeon and the other is a spine surgeon. Growing up, I always heard their stories about the procedures they performed, and I marveled at that. When it came time for me to choose a career, I knew I wanted to do something in health care. During my dental studies, it became clear to me that the thing I loved most was surgery.
Why is research important in the career of a clinician?
You can be an excellent physician, surgeon, or dentist without doing research, but you should at least understand it. You should know that what you are doing is based on evidence; otherwise, you might just be doing things the way you learned, but in practice, they might not be helpful or could even be harmful. Research helps us ensure that we are using the best methods to help the patients recover their health.
When and how did you get involved with the AO?
I started getting involved with the AO during residency, around 2009, when I took my first AO course. I was absolutely fascinated with the AO and I knew I wanted to get more involved. Eventually, I found out about the AO CID fellowship. What a truly amazing experience that fellowship was! I was really impressed by how much I learned in such a short time: All areas of clinical research were covered and they had a complete team to run the clinical research—physicians, statisticians, lawyers—so I got to learn from people who are really specialists in what they do. But the best was saved for last. At the end of my fellowship, I was invited to a dinner with AO stakeholders during the AO Davos Courses 2012. At that dinner, I was awarded my certificate. I was already proud to be one of the few scholars to get the certificate right at the end of the program, which requires publishing the paper you worked on during the fellowship, something that most would only achieve later. But as my supervisor was handing me the certificate, she mentioned that I was first CMF surgeon to complete the fellowship, and for that I got a standing ovation from Dr. Edward Ellis III, one of the stakeholders attending the dinner, and someone who has always been an inspiration to me. What a truly special moment that was!
Then, in 2017 I was invited to join the AO Trauma Latin America Research Support Group. In 2019, I was selected to join the AO Program for Education and Excellence in Research (AO PEER) path and am now AO PEER faculty. I am also a junior reviewer for the AO Research & Development Commission, as well as an adjunct member representing Europe and Southern Africa on the AO CMF Community Development Commission.
You are a native of Brazil but you're living in Germany. Does this dual experience provide you with some additional community development insights?
It definitely does. I joined the community team not so long ago, but it quickly became obvious to me that the needs of European surgeons are different from the needs of Brazilian surgeons. Sometimes, you believe your reality is everyone else's reality. I know at least two different realities. For example, in Latin America, being part of the AO is really perceived as a prestigious thing, but here in Europe, I don't see the same excitement from colleagues. I wondered, "How could that be?" So that is something to work on: engaging CMF surgeons in Europe in the whole breadth of AO CMF activities, and using all of the tools at our disposal, like myAO, Facebook, and other social media channels.
What is your vision for attracting members from Europe and Southern Africa?
The AO is doing so much right, but from my point of view, we must do even more: for example, offering online learning materials. As a member of AO PEER faculty member, I know all the materials that are available online and it is incredible—yet maybe the wider community isn't aware of these resources. I see opportunities to raise awareness.
I would also like to connect more with colleagues in Southern Africa to hear their perspectives. Coming from outside of Europe, I know a different reality, and I would assume that our colleagues in Southern Africa may also have different realities and needs than their European colleagues. There may be opportunities, for example, to help colleagues from different countries to teach and present at international events and really represent the global AO CMF community.
What's the best professional advice that anyone ever gave to you?
It's the so-called golden rule: Treat others as you want to be treated. I try to put myself in the patient's shoe.
What books are on your nightstand?
At the moment, I am rereading one of my favorite books, Zen and the Art of Motorcycle Maintenance, by Robert M Pirsig.
Coffee or tea?
I like them both. I like coffee in the morning to wake up, and I drink black or fennel tea at night or after meals.
What music is currently at the top of your playlist?
I have always been a huge fan of rock and metal but, to be honest, lately I have been listening more and more to podcasts. I'm especially interest in podcasts on science, politics, philosophy, dentistry, and video games. Some of my favorites are You Are Not So Smart, Science Friday, Working Scientist, and Healthcare Triage.
Tell us about the most important experience in your life as a surgeon and how it affected you personally/professionally.
I would say it was my two-month craniofacial surgery fellowship at the National Institute of Traumatology and Orthopedics (INTO) in Rio de Janeiro, Brazil, in 2009, under the late Dr Ricardo Cruz, who sadly passed away last month due to COVID-19. Even though we only worked together for a short time, Dr Cruz was one of the best mentors I have had; he had a huge impact on me, both as a person and as a surgeon. As a person, I was always impressed by the interest he took in his trainees, the kindness he showed his patients, and how far he went to assure that they got the best treatment possible. Moreover, he would make no distinction between his private patients he treated at some of the most luxurious hospitals in Brazil and those he treated from Brazil's National Health System (SUS). He was without a doubt one of the greatest CMF surgeons in Brazil, who definitely left his mark in the specialty. I am forever grateful to him for his teachings and I will always remember him fondly.