Passion for teaching
India's Dr Gopal Krishnan looks to the future of surgeon education in Asia Pacific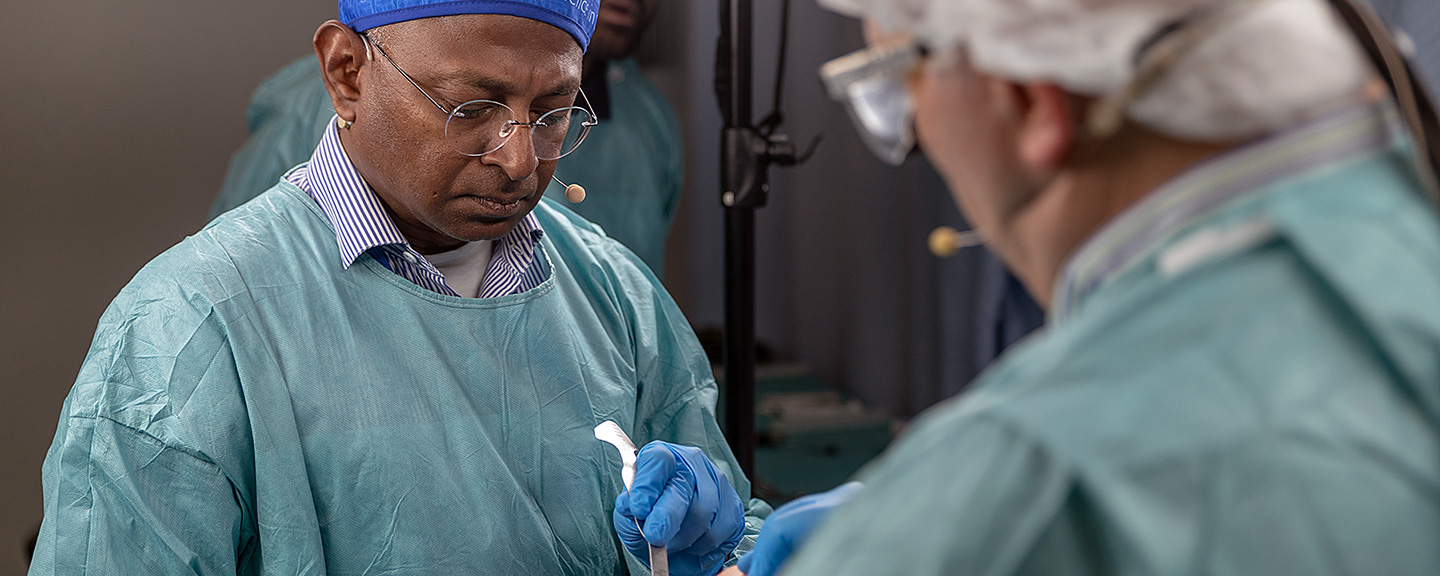 Teaching has long been a passion for AO CMF Asia Pacific Board member Dr Gopal Krishnan—and when he becomes chair of that board in July 2020, he's intent on bringing the AO spirit to life in countries beyond India's borders.
Krishnan knows all too well the value of AO CMF educational opportunities: It was an AO CMF course in 1994 that kickstarted his own interest in facial trauma. As he looks to the future of craniomaxillofacial (CMF) education in Asia Pacific, he is eager to extend the same opportunities to other surgeons.
"My own mentor, Prof Bhasker Rao, always said that if you teach others how to do things, you vastly increase the number of patients you can help," he said. "So, I try to train as many residents as possible and in this way we can improve the quality of life of more patients. For me personally, AO CMF education has had a huge impact. It is focused and structured in a way that teaches course participants not only management of areas of the face but the patient as a whole."
The result, Krishnan said, is that AO CMF course participants go home with greater knowledge and practical skills—as well as the confidence to apply them in their daily practice.
"You leave an AO CMF course with much more than a certificate," he said. "Our courses give participants contact with leading experts who can serve as mentors, just as I try to be a mentor."
In Asia Pacific, Krishnan sees a huge opportunity for advancing surgeon education, particularly in countries with little or no AO CMF presence. In India, where just 10,000 CMF surgeons serve a population of 1.3 billion people, AO CMF has about 300 members and conducts 12 educational events per year, and he hopes to sustain and strengthen that presence. In surrounding countries, he is keen for AO CMF to put down roots—and AO CMF Asia Pacific's successes in Sri Lanka, Nepal and Bhutan convince him that it's not only possible, but necessary.
"We began reaching out in Sri Lanka and Nepal six years ago, and now both countries have their own courses," said Krishnan. "Young surgeons in Nepal are taking things forward there and in Sri Lanka, we now have two courses per year."
---
"All of us need mentors, someone to look up to as we aspire to reach the next level of knowledge and skill. We have the world's leading experts in AO CMF."
---
Technology makes it possible to supplement existing educational opportunities, and AO CMF's live streamed ON AIR sessions are a shining example. They allow surgeons to engage with the world's leading CMF experts without leaving their homes or offices.
He is particularly excited about the upcoming AO CMF ON AIR session, to be broadcast live from the Sheraton Grand Hotel in Bangalore, India, on November 15, 2019. The livestream coincides with the 50th Anniversary and the 44th annual conference of the Association of Oral and Maxillofacial Surgeons of India and marks the first AO CMF ON AIR session broadcast from Asia Pacific. Focusing on a relevant and challenging topic, the interactive, talk-show format ON AIR session, Fail to Plan, Plan to Fail: Mandibular Reconstruction will feature AO CMF experts Sabine Girod (US), Moni Kuriakose (India), Gregorio Sánchez Aniceto (ES) and Krishnan himself. Also onstage will be four local surgeons ready to tackle questions from presenters and the audience.
"The fact is that not everyone has the time or the economic support to travel to a face-to-face course, and ON AIR events give surgeons the opportunity to interact with world-class CMF experts," he said, adding that the role of inspiration should not be underestimated. "All of us need mentors, someone to look up to as we aspire to reach the next level of knowledge and skill. We have the world's leading experts in AO CMF."
Dr K Gopal Krishnan
Dr Gopal Krishnan, a native of southern India, is a clinical professor in the department of oral and maxillofacial surgery at Sri Dharmasthala Manjunatheshwara
(SDM) College of Dental Sciences and Hospital in Dharwad, Karnataka, India. Additionally, he is a consultant maxillofacial surgeon at the SDM Craniofacial Surgery and Research Center, a tertiary referral center in Dharwad.
Krishnan graduated from Government Dental College (Chennai, India) and completed his postgrad education at Manipal University (India). He completed a Royal College of Surgeons fellowship and his oral and maxillofacial surgery training in the United Kingdom.
Krishnan's areas of interests are craniofacial trauma, cleft lip and palate deformities, temporomandibular joint disorders and facial deformity surgeries. He has served as a member of AO Foundation Board of Trustees, is currently a member of the AO CMF Asia Pacific Board from India, and in July 2020 will begin a three-year term as chair of the AO CMF Asia Pacific Board.