Getting to know: Gangadhara Sundar
An interview with oculoplastic surgeon AO CMF faculty member Gangadhara Sundar about his career path and the unique multispecialty orientation of AO CMF.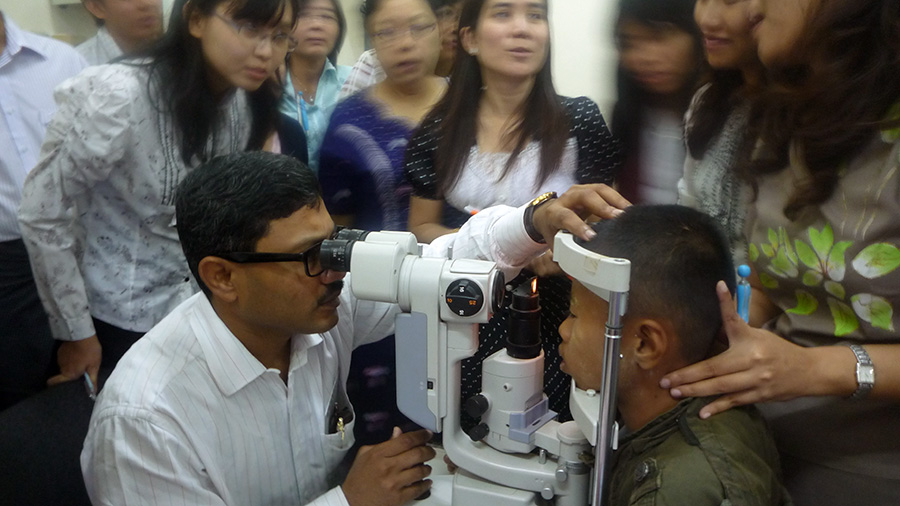 Oculoplastic surgeon AO CMF faculty member Gangadhara Sundar—raised in India, educated in India and the United States, and today practicing in Singapore—discusses his own path and the unique multispecialty orientation of AO CMF.
Where are you now? Where do you practice and/or teach/do research?
For 18 years, I have been practicing orbit and oculofacial surgery at the multispecialty tertiary care National University Hospital in Singapore, where we train undergraduates, postgraduate residents and fellows with the tripartite mission of clinical care, education, and research.
What is your educational background?
I graduated from the Madras Medical College, Chennai, India, and received basic training at the Government Ophthalmic Hospital, Egmore, the second oldest eye hospital in the world. I then pursued a residency training followed by a formal two-year fellowship in ophthalmic plastic and reconstructive surgery under Dr Murray D Christianson at the Henry Ford Hospital, Detroit, United States. The combination of training both in India and in the United States gave me the required knowledge to embark on a career in orbit and oculofacial surgery. Over the years, interacting with oculoplastic surgeons through ophthalmological societies and with craniomaxillofacial (CMF) surgeons through the AO has further expanded my knowledge and understanding of this interesting field.
Where did you grow up?
I was born in a small temple town Thanjavur, in South India, but pursued all my schooling and medical education in Chennai, in South India. Interestingly while growing up, I don't really recall much of the stress that kids nowadays feel. I was brought up to lead a meaningful, productive life and to simply do the best I could for all of those around me.
What inspired you to become a surgeon?
Coming from a family of physicians, choosing a career in medicine was a straightforward decision. However, wanting to be a reconstructive surgeon, but being offered a residency in ophthalmology paved my path toward a career in oculoplastic surgery. The satisfaction of employing fine microscopic and meticulous surgical techniques, incorporating a good mix of techniques and technology, and the reward of obtaining almost immediate excellent postoperative outcomes have motivated me to build and spread the cause of orbit and oculofacial surgery.
Why did you choose ophthalmology as your specialty?
I was really fascinated by the head and neck anatomy right as a first-year medical student, and I had always wanted to reconstruct and work on the human face. So, while I initially aspired to be a facial plastic surgeon, I was offered a residency in ophthalmology. My fascination with restoring vision with ophthalmic surgery—along with the challenge and joy of working with periorbital tissues—led me to pursue a fellowship in oculoplastic surgery. This helps restore form, function (in other words, vision and aesthetics) and not infrequently saves life as well—all in one go—providing great professional satisfaction.
Tell us about the most important experience in your life as a surgeon and how it affected you personally/professionally.
I distinctly recall one situation which was very mentally rewarding and made it all worthwhile. There was a teenage patient who had attempted to take her own life. She had presented with a severely traumatized face, orbit, and a ruptured globe. We had performed a multistage, complex orbitofacial reconstruction, removed her disorganized globe, and reconstructed the orbit with prosthesis fitting. While the initial outcome was less than satisfactory—requiring additional socket procedures—she recently followed up looking perfectly normal, on good spirits, leading a perfectly normal, meaningful life, and even contributing in her own way as a member of an international task force involved in the peace process in one of the major conflict zones of the world. This has been one of the most rewarding moments.
When, how, and why did you get involved with the AO?
The AO was unknown to me in the 1990s, primarily because most of our residency and fellowship training was within the ophthalmology circles. However, since joining a multispecialty tertiary care center here at National University Hospital, Singapore in early 2000s, interacting with other CMF specialties, and dealing with more complex pathology beyond the orbit, the inadequacy of single specialty training hit me. Prof TC Lim, then leader of AO CMF Asia Pacific, introduced me to the AO principles and concepts in 2004. Since then, I learned the value of interacting with CMF colleagues from various backgrounds: plastic surgery; ear, nose, and throat (ENT), maxillofacial surgery, and neurosurgery. First as a delegate at AO CMF courses and then as faculty at various courses in Davos, Switzerland, and on teaching mission, that principles-oriented teaching impressed me tremendously. This gave me an opportunity to interact with and learn from international greats such as Profs Paul Manson, Alexander Schramm, Bradley Strong, Warren Schubert, and Michael Grant, to name a few. I also learned to discuss, plan, and deliver multimodal management of complex disorders by interacting with oncologists, neurosurgeons, interventional neuroradiologists, anaplastologists, and others in the medical field. Since then, I have been a great believer of multidisciplinary approaches to complex orbit and orbitofacial disorders, realizing that together, we can do more and much better.
You have been faculty for several AO CMF orbital reconstruction courses. What are some of the special insights that an ophthalmologist brings to course participants?
Since attending and participating in the various orbitofacial teaching courses, I understand how non-ophthalmologists approach the same conditions we manage. Likewise, sharing with them the ophthalmologist's perspective helped build a well-rounded discussion and planning management of complex cases, which has helped our clinical practice. As ophthalmologists, we place high value on vision, alignment of the eyes, periorbital soft tissues, and their place in the harmonious reconstruction of the midface and the facial skeleton.
Giving course participants access to various perspectives/insights: Can you describe how the ophthalmology perspective can help surgeons improve patient care and outcomes?
Although the goals of patients' best outcomes are the same across disciplines, the differences in perspective, philosophy, and culture often causes discord in patient management. Most importantly, while we learn tips and tricks to overcome common hurdles and pitfalls, the knowledge-sharing we have at AO CMF courses hopefully aids the CMF surgeon in preventing/minimizing complications within the orbit and periorbital region.
This is what inspired me to edit and compile a book on orbit and orbitofacial fractures. Although written from an ophthalmologist's perspective, it has major contributions from plastic, maxillofacial, and ENT surgeons. The very supportive words from Emeritus Prof Paul Manson (Johns Hopkins University, United States) and Dr Geoff Rose (Moorfield Eye Hospital, London, United Kingdom) were a great encouragement to continue to spread the principles and practice of good orbitofacial reconstruction.
How does being in contact with AO CMF surgeons from various specialties add value to your practice and improve the lives of your patients?
Medicine is the art and science of delivering holistic care to patients and their families. By coming together, setting differences and egos aside, we can offer what is best for the patient, in either single-stage or multiple-stage procedures, through the most appropriate technique incorporating technology (endoscopic, navigation, virtual surgical planning, 3D printing, etc). Adopting principles and techniques from other specialties goes a long way toward minimizing patient morbidity and delivering the best outcome possible.
You were trained in India, board certified in the US, and are practicing in Singapore, you also have a broad international perspective. How does your AO CMF involvement dovetail with this international orientation?
While training in India, there was no dearth of patients, complex pathology, and excellent teachers, giving me good exposure to the breadth and complexity of orbitofacial disorders. However, access to cutting-edge technology due to cost and limited infrastructure was a major factor. But it taught us how to deliver cost-effective care with local innovation. Also, paucity of structured training and difficulty in finding good mentors and role models in some centers had resulted in a varied training experience. Having spent time at the Henry Ford Hospital in the United States, with excellent teachers and role models like Dr Murray D Christianson—who had received training in Canada, the United States and the United Kindom—and demonstrated high clinical, surgical, and ethical values, I appreciate the value of training at multiple centers under different experts. Likewise, participating in national, regional and international meetings, both with ophthalmologists and CMF surgeons from various backgrounds and various continents, has helped broaden my perspective.
Personally I am a strong believer of the "SAP of medicine": science, art and philosophy. This is why we have not only scientific exchanges at AO CMF meetings, but also share the art (techniques of surgical approaches, dissection, implant placement, etc) and, finally, the philosophy (rationale for why we do what we do for the patient, even though the approaches may be different), all of which contribute to the best outcome of our patients.
How is AO CMF different from the many other professional networks?
All AO CMF courses have two groups of people: the knowledge providers and the knowledge receivers. The global experts, despite the diversity of their training, economic, social and cultural backgrounds, have a lot in common: pride in their work, generosity in sharing their knowledge and expertise, willingness to travel, and experience and understanding local factors. And instead of imposing their perspectives, they teach participants to adopt newer techniques and to innovate with simple and locally available resources to deliver the best possible outcome. This in turn greatly aids AO CMF course participants to learn from master teachers, who without ego are willing to hold their hands and break barriers. This has resulted in an extended global family of AO CMF members and faculty who lead by example and often inspire young surgeons from various corners of the world.
What's the best professional advice that anyone ever gave to you?
Keep your mind open, embrace new ideas and techniques, learn principles and good basic techniques which will hold you in good stead even in difficult cases, and be a constant learner.
What books are on your nightstand?
An interesting mix of books like Sapiens by Yuval Noah Harari and Facial Trauma Surgery, edited by the AO faculty from R Adams Cowley Shock Trauma Center at the University of Maryland in the United States.
Coffee or tea?
Coffee, of course, anytime and occasionally with a good dessert!
What music is currently at the top of your playlist?
Dire Straits, all things of the guitar greats, and classic rock anywhere, anytime. Jazz at night though.
What do you do to relax?
Tennis, walks and jogs, an occasional swim, good music, and family.
Do you have a mantra or favorite saying?
"Be not the first by whom the new is tried, nor yet the last to lay the old aside."