Getting to know: Emily Nyamu
Tackling challenges with compassion and determination in equal measures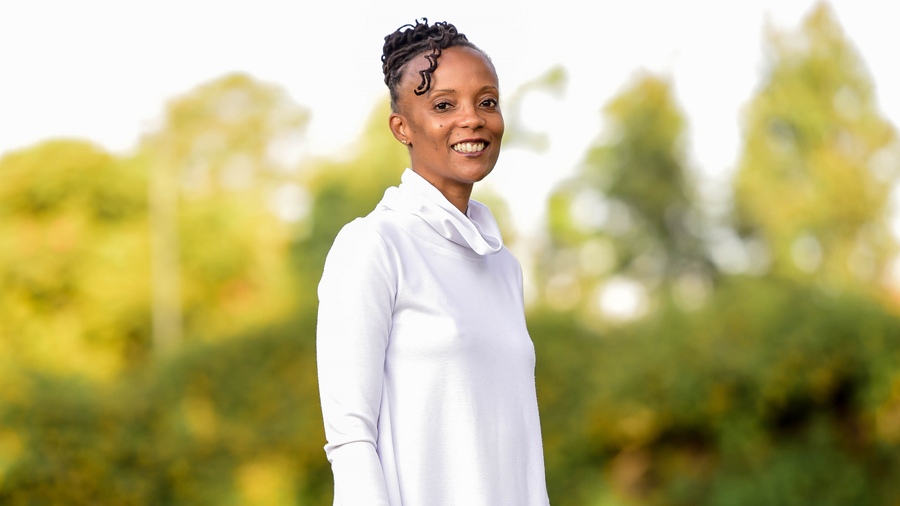 AO CMF national faculty member Emily Nyamu is one of just 26 maxillofacial surgeons—and one of only five female maxillofacial surgeons—serving Kenya's entire population of more than 48 million people.
As one of only 26 maxillofacial surgeons serving Kenya's 48.4 million residents, she is, in effect, serving 1.86 million people, and doing it capably with the public health care system's limited resources. A Nairobi native, Nyamu knew from an early age that she wanted a career in medicine and chose surgery, despite being advised that the demands of being on-call could interfere with family responsibilities. Today, she is a consultant oral and maxillofacial surgeon with the Kenyan Ministry of Health's Nyeri Provincial General Hospital and a fellow in clefts and craniofacial deformities, and is in part-time private practice as a consultant maxillofacial surgeon with admission rights at five hospitals—and a mother of four children, including twin toddlers.
Eager to tackle challenges
Nyamu's patients run the gamut from trauma patients requiring open reduction and international fixation and those with congenital malformations such as cleft palates, to patients with tumors, temporomandibular joint (TMJ) issues and salivary gland disease. And, because she practices in a more rural area, she also treats injuries, like snakebites, that would be atypical in an urban area.
"A typical day here is not much different than the cases we would get on a regular day in Munich, for example," Nyamu said, explaining that a lack of resources is one exception. "But I work in a government hospital, and that lack of resources means that we sometimes just have to do what we can at the moment because, although we want to do cases perfectly and use a certain number of implants or a specific implant, it often won't be available or not available in time. In fact, patients sometimes have to procure implants themselves with a prescription from me. However, these challenges are not specific for Kenya. They are public health care system challenges."
A moving case
But Nyamu is not one to back away from a challenge. Case in point: a baby boy born with a Tessier facial cleft and a cranial encephalocele and deserted by his mother (news article).
"She was a first-time mother who had had no ultrasounds, so she had no way of knowing she was carrying a severely deformed baby," Nyamu said. "I said, 'I think I can fix the facial cleft.' So, we came together as a team—a plastic surgeon, neurosurgeons from Aga Khan University Hospital and I, at Consolata Mathari Hospital—and took on this case. It was very rewarding because, after the surgery, the child's mother began visiting him in the hospital."
That patient is five years old today, lives at the hospital, gets physical therapy and goes to a special school, she said. He has had several surgeries to repair his facial anomalies.
"I would have wanted to continue doing surgeries to correct his bony defect and soft tissue defect. This case really moved me so much. The human face really influences how we are perceived in society," said Nyamu.
---
You have to dream big. Don't limit yourself. We can always be better."
---
Nyamu's connection to the AO goes back to her medical school days when AO CMF offered trauma courses and she saw how the AO principles were consistently applied worldwide.
"When I finished school and came to Nyeri, I didn't have the advantage of being posted in a university medical center to work under an older or more experienced surgeon, so the AO materials really helped me," she said. "Also, AO faculty in my earlier days would come down to Nyeri once in a while for very serious cases. That's how I grew as a surgeon: a lot of materials from the AO and contact with like-minded colleagues once a year. Then, through an AO Fellowship with Prof Michael Ehrenfeld in Munich, I realized that I'm good at what I do."
As an AO CMF national faculty member, Nyamu said she gets as much as she gives.
"From our faculty meetings to the courses themselves, there is always a great exchange of ideas and I always come back with some new knowledge or perspective that makes me a better surgeon," she said. "And AO CMF surgeons become friends. There is a spirit of wanting to help one another—and to help patients—and no competitiveness."
At the end of the day—and a CMF surgeon's days are often long and demanding—it's all about "being the best version of yourself that you can be," and Nyamu said the AO CMF community helps her do just that.
"I wish I had known this way of living earlier in my life," she said, adding that she aspires for her hospital to become a center of excellence. "You have to dream big. Don't limit yourself. We can always be better."
Dr Emily N. Nyamu-Muriuki, BDS, MDS-OMFS, FCCS (India) practices maxillofacial surgery at Nyeri Provincial General Hospital in Nyeri, Kenya. She is a graduate of the University of Nairobi School of Dentistry. Additionally, she completed an externship in cleft lip and palate genetics at the University of Iowa Carver College of Medicine in Iowa City, US, a fellowship in cleft and craniofacial surgery at India and Jubilee Mission Hospital in Thrissur, India, and an AO Fellowship with Dr Michael Ehrenfeld at the University of Munich, in Munich, Germany.
Since last year, she has been active in AO CMF as both a national faculty member and a course chair.