Getting to know: Belinda Beltrán-Salinas
Belinda Beltrán-Salinas, head of the Oral and Maxillofacial Surgery Department at "Hospital Metropolitano Dr. Bernardo Sepulveda" (San Nicolás de los Garza, Nuevo León, Mexico) is proof of AO CMF's opportunities for women. She discusses her role as an AO CMF woman ambassador, as well as her career path, asserting that role models can play a significant part in young surgeons' lives.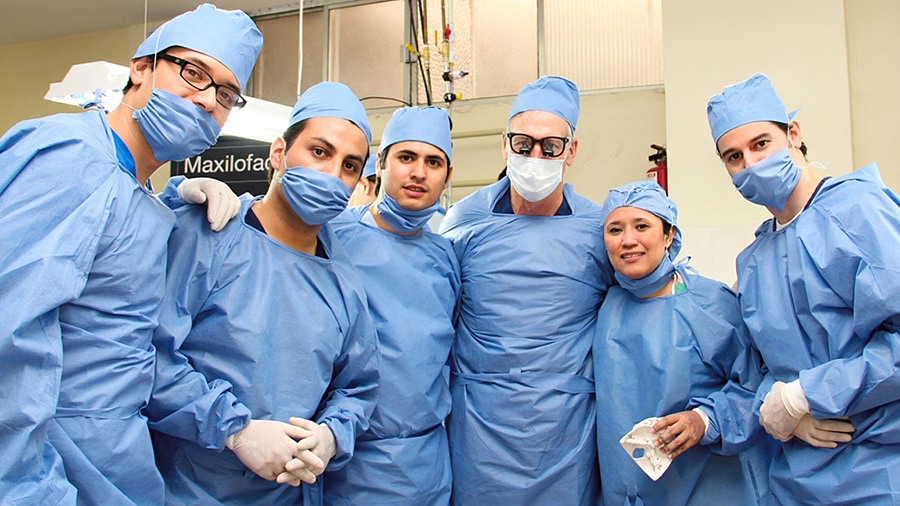 Where are you now? Where do you practice and/or teach/do research?
I work in the "Hospital Metropolitano Dr. Bernardo Sepulveda" in the metropolitan area of Monterrey, Mexico. I am a professor in the "Facultad de Odontología of the Universidad Autónoma de Nuevo León," a public university and the second largest in Mexico. I teach and practice oral and maxillofacial surgery, oral pathology, and I participate in the clinic and in the operating room in the hospital. I am also the founder and Head of the Oral and Maxillofacial Surgery Department at "Hospital Metropolitano Dr. Bernardo Sepulveda" in San Nicolás de los Garza, Nuevo León, Mexico, and founder of the Oral and Maxillofacial (OMFS) Residency Program.
What do these roles mean to you?
They mean service and responsibility. The goal of my program is to ensure that the most vulnerable population in my state has the opportunity to be attended by this specialty, and nobody was attending them. Patients who do not have health insurance, are out of opportunities, or do not otherwise have the resources to get treatment for their conditions like facial trauma, infections, pathology, temporomandibular joint disorder (TMJ), oral cancer and orthognathic surgery.
Of course, last but not least, I have the opportunity to train oral and maxillofacial surgeons of excellence.
What inspired you to become a surgeon?
I was 19 years old and had just finished dental school when I read a very inspiring patient testimonial in a journal. The patient had been bitten on the face by a horse when he was three years old, and he described how a very famous surgeon in Mexico had changed his life by reconstructing his face. I was very touched by this situation which inspired my desire to help people and later on became a surgeon.
Why did you choose oral and maxillofacial (OMF) surgery as your specialty?
Since my professional practice during my career—The first time I held a scalpel, I felt that I had found my place. And I still feel that way.
What is your experience as a female OMF surgeon?
I have had a lot of challenges. For example, when I founded the residency training program, I encountered a lot of obstacles because that kind of endeavor requires navigating politics, selling the project, and building relationships with predominantly male decision makers. Maybe they saw my genuine passion for taking care of patients. Surgery in general is dominated by men, and when I started this program. I believe that decision makers wanted to see if the program would run well before really committing resources to it; I was the only female surgeon in the operating room (OR) in my hospital, so I think it's clear that the hesitance was related to my gender. Colleagues in other specialties were always very polite to my face, but at one point, I had to become assertive and say, "I was trained as a surgeon and it doesn't matter whether I am male or female. I am a surgeon, and this is my OR, too." Finally, they stopped treating me like a student or some other subordinate.
When and how did you get involved with the AO?
When I was doing my residency training, I had an internship with Dr James Swift at the University of Minneapolis in Minnesota (United States), and he organized an AO basic principles course in 1997.
In 2011, a year after I started the program at "Hospital Metropolitano Dr. Bernardo Sepulveda," I invited Dr Swift to come and give us a hands-on cadaver course in orthognathic surgery. He told me, "You have to be AO faculty because you have the profile." I see him as my mentor, and I followed his advice. For years, it had been my dream to have the privilege of being an AO faculty member and I'm very grateful to the AO for recognizing me as one.
Tell us about your role as an AO CMF woman ambassador.
I joined the AO CMF women ambassadors at the invitation of Dr Ana Catalina Tobón Trujillo, who knew my academic background and knew I had founded this program. As ambassadors, we promote AO activities to both men and women, organize courses online, share cases, and raise the profile of women surgeons.
Did you have mentors when you were beginning your education and career as a surgeon? Were any of them female? What did your mentors contribute to your personal and professional life?
In addition to Dr Swift, my mentors are Dr Martin Toranzo, in San Luis Potosí, in Mexico, where I did my residency and training, and—since I am in the AO CMF family of women—Dr Sabine Girod and Dr Aida Cruz. For me, a mentor—male or female—has the same value, just like Dr Ricardo Cienfuegos and Dr. Gerardo Fernandez-Sobrino. But I do think that women understand me better, because we share some of the same challenges.
What is your experience as a role model for the next generations of surgeons?
I try to follow the experiences and examples of my own mentors: knowledge, discipline, passion, organization, and following a strategic plan.
What's the best professional advice that anyone ever gave to you?
I have gotten a lot of advice, but one of my favorite leadership coaches, Robin Sharma, said, "When a person sweats in training, he bleeds less in war." That's about working hard and being prepared.
Coffee or tea?
I like coffee in the morning and tea in the evening.
What do you do to relax?
Meditation, breathing exercises, rock climbing and I love watch baseball with my father. At the end of the day I have a tea.
Tell us about the most important experience in your life as a surgeon and how it affected you personally/professionally.
I think back to the times that I was able to give patients the help that they were looking for. I remember a three-year-old patient—just a baby, really—who couldn't open his mouth because he had a TMJ mass: I did the surgery that no other surgeon in my state's hospital wanted to do. In the end the patient could open his mouth and eat. He was a very happy patient, and I was, too, because the patient could, for example, enjoy a hamburger. There is enormous satisfaction when the patients are happy with the results. Of course, we surgeons are not perfect; we are training and learning all the time, but when you see those results, you can say, "I did something good today."
Do you have a mantra or favorite saying?
Without coffee, there are no mornings.
What are your favorite books?
The 5 AM Club and The Saint, The Surfer & The CEO by Robin Sharma.
In just a few words, what does AO CMF mean to you?
AO CMF means service, learning, passion, innovation, creativity, and a great opportunity to collaborate internationally with surgeons across the specialties.